Federation of Master Builders urges MLAs to help NI construction industry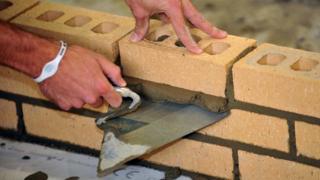 Northern Ireland's construction sector is "trailing behind the rest of the UK" and needs intervention from Stormont, according to industry representatives.
The Federation of Master Builders (FMB) has called on the Northern Ireland Executive to put in place a number of measures to "boost workloads".
On Monday, they will lobby ministers at Stormont to "commit to building at least 11,000 homes a year by 2020".
The FMB will also ask MLAs to help to improve builders' access to bank loans.
'Barrier to growth'
The federation's director in Northern Ireland, Maire Nawaz, said: "While the construction sector stutters in Northern Ireland, we're seeing stronger and more consistent growth in England, Scotland and Wales, so it's no surprise our skilled workers are being enticed over to the mainland."
She said the lack of access to finance was a "key barrier to growth" in Northern Ireland's construction industry, especially for small and medium-sized firms (SMEs).
Ms Nawaz claimed SMEs were "suffering from blanket discrimination by the banks, regardless of how healthy the firm's accounts may be".
She said Northern Ireland construction firm were not benefiting from government interventions that are currently available to companies in other parts of the UK.
"This includes the British Business Bank, which is available in England, and is designed to counteract the reluctance of banks to lend to small construction firms," she said.
After a few years of unprecedented growth, Northern Ireland's property price bubble burst in 2007 and marked the beginning of a five-year slump.
The wider economic downturn had the greatest impact on the construction industry, with the loss of one in three jobs in the sector in Northern Ireland since the 2007 peak.
Last spring, the Royal Institution for Chartered Surveyors (RICS) warned there was a skills shortage across a range of construction disciplines in Northern Ireland.
By autumn, the Construction Employers Federation (CEF) said recovery in the construction industry had "simply not materialised" in Northern Ireland.