Francis McPeake: Seven deny intimidating musician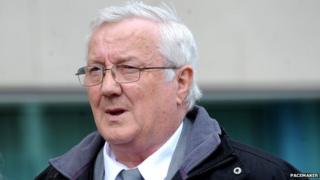 Seven people have appeared in court on charges of intimidating traditional Irish musician Francis McPeake from his home in south Belfast's Markets area.
Mr McPeake was allegedly intimidated from his Eliza Street Close home in Belfast in September 2013 when a crowd gathered in the area.
At the time, the pensioner was facing charges of sexually abusing a schoolgirl.
He was acquitted of all charges in September of last year.
A total of 10 people from the Markets area have been charged with a range of offences linked to the alleged September 2013 incident and seven of them appeared at Belfast Crown Court on Tuesday.
They were Sarah Bruce, 44, 49-year old Paul Quinn and Danielle Whyte, 29, who are all from Stewart Street; Julie Anne Murdock, 26, Joseph Patrick Murdock, 53, and 18-year old Ciaran Murdock who are all from Eliza Street Close; and 37-year old Tracey Conlon from Friendly Street.
All seven defendants were charged with intimidating Francis McPeake to leave his home by force, threats or menaces between September 13 and 16, 2013. All seven deny the charge.
Ms Bruce, Mr Quinn and the three Murdocks have also been charged with riotously assembling together on the same dates. They all deny the charge.
In addition, Mr Quinn was further charged with damaging the window of a vehicle belonging to the musician. When this charge was put to him, he replied "not guilty".
Ms Whyte also faces a charge of intimidating a second man out of his home by force, threats or menaces between 13 and 16 September, 2013. She denies the charge.
Ms Conlon denies an additional charge of assembling with others between 13 and 16 September, 2013.
The court was told that a provisional trial date has been set for 13 May and that the hearing is expected to last a fortnight.
The seven accused were released on bail.