Welfare reform: How did Sinn Féin lose faith in Stormont House deal?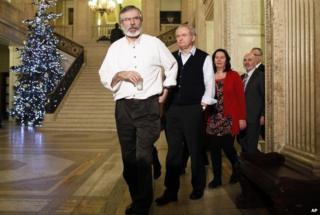 In the talks that led to the Stormont House Agreement just before Christmas, the five main Northern Ireland parties reached a deal on how benefit claimants were to receive additional protection.
The nationalist parties in particular were adamant that a Northern Ireland system would have to be more generous than the one agreed at Westminster.
As the Treasury would not be providing any more money, it would have to come from Stormont's existing resources.
They came up with a two-page document that laid out a package of measures.
These included not implementing the "bedroom tax", protection for claimants on Disability Living Allowance (DLA) and the creation of a Supplementary Payment Fund "to provide support for those who may have suffered financial loss".
This protection was to be offered for an initial six years up to 2021 at a total cost of £564m, averaging £94m a year.
The vast bulk of this related to DLA claimants, with the Supplementary Payment Fund, for other benefits, accounting for £125m.
At this stage, Sinn Féin was fully onboard, having received figures from the Department for Social Development (DSD).
The party says that as far as it was concerned, these figures showed the money was enough to provide full protection for current and future benefit claimants.
However, this has been met with scorn by the DUP.
Former Stormont Finance Minister Sammy Wilson said it would be "impossible" to offer that sort of protection.
First Minister Peter Robinson said that "nobody with two brain cells to rub together" could have thought the Supplementary Payment Fund would cover all claimants.
Sinn Féin has been keen to point out that in January, the social development minister - Mervyn Storey of the DUP - told the assembly that no-one in Northern Ireland would be "adversely affected" by welfare changes.
Mr Storey says he was referring to one specific element of the changes, relating to universal credit.
By February the sheen was coming off the deal for Sinn Féin.
Alex Maskey of Sinn Féin said the DSD shared proposals for implementing the protection of claimants that were "well short" of what they thought had been agreed.
Deputy First Minister Martin McGuinness elaborated on that in an interview with RTÉ on Tuesday.
He said it was only clear this month that the £125m Supplementary Payment Fund would not be enough to offer the level of protection his party wants.
He said the department had now indicated that it would take in the region of "over £200m" on top of the existing £125m to resolve the problem.
The social development minister says that what Sinn Féin want would in fact cost be closer to an extra £300m.
None of the DSD workings-out from the Stormont House negotiations or subsequently are in the public domain.
However, other publicly available figures do make £94m a year look on the low side for full mitigation.
For example, in 2015/16 the Treasury had planned to impose a £114m "fine" on Stormont for not implementing welfare changes.
This implies that the Treasury believes welfare reforms should save £114m.
Research carried out for the Northern Ireland Council for Voluntary Action by Sheffield Hallam University forecasts that the impact of changes to DLA, Housing Benefit and the Benefit Cap would amount to £128m a year.