'Eucharistic famine' fear over future of priesthood in Ireland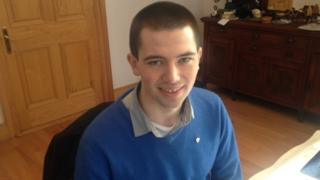 As a local radio reporter, covering A-level results day is a summer news staple.
But my trip to St Mary's in Limavady in 2013 was to turn out to be just a bit different.
While other students told me of their plans to study business, arts or engineering, Conan McGonagle told me he was going to Maynooth outside Dublin to train to be a priest.
Now 19, Conan represents something that the Catholic Church has seen a steady decline of over the last 20 years and that is young men going into religious vocation.
I decided to try and find out why for a BBC Radio Ulster documentary.
In 1994, there were 209 students overall studying for the diocesan priesthood at Maynooth.
At the end of September 2014, there were 69.
The drop-off has prompted fears of what the Association of Catholic Priests (ACP) has described as a "Eucharistic famine".
The ACP represents around 1,000 working clergy.
Fr Brendan Hoban is their spokesperson. He has a small rural parish in Moygownagh in County Mayo.
"It's now a mathematical certainty that in 15-20 years there will be very few priests left in Ireland," said Fr Hoban.
"People think you're exaggerating but if you take my situation, we have 22 parishes in this diocese.
"In 15 years, we estimate we will have seven priests.
"That's in a rural diocese, with quite a distance between churches, these priests will be running around trying to baptise, bury and marry in a way that just won't work. It's capsizing. It's falling apart."
Conan knew from an early age that he wanted to be a priest, but it was only when he became a teenager that he started to seriously consider it.
"The idea of being a priest started in primary school and when I was 16, it came back with a vengeance," he said.
"It was overwhelming.
"I tried to put it to the back of my mind, I told myself it was a phase, but it just came back stronger.
"Then when I started to make the enquiries into becoming a priest, I found peace."
Married priests
The Association of Catholic Priests have suggested three steps they believe would address the priest shortage.
They would like the Catholic Church to ordain married men, allow women to become priests and allow those who left to get married to come back to ministry.
Noel Bradley was a priest for 29 years. He is now a married father-of-two.
He met his wife Rosanna while ministering in the Philippines.
They became a couple after Noel left the priesthood.
"I believe I was a good priest," he said.
"I would go back tomorrow morning, even if I didn't get paid. I would love to have both.
"A full-time job as a priest and at the same time have my wife and children. You wonder what's the matter with that. Why can't you have both? But that's just a dream."
Rosanna says she would love to see her husband return to ministry.
"I feel sorry for him that he can't continue with his ministry," she said.
"He has that pastoral care within him, but he's not allowed to do it."
The Catholic Church is not alone in the battle to fill clerical vacancies.
Church of England ministers have been allowed to marry since the 16th century. In 1994, it started ordaining women priests. But it too has seen a decline.
The Archbishops of Canterbury and York warned this year that the current ordination rates are well below what is needed.
The Bishop of Derry, Dr Donal McKeown, believes it is not as simple a case of allowing priests to marry.
"You ask the churches that have married clergy and they will tell you they have the exact same struggle with getting clergy and retaining them," he said.
"Some may say celibacy is a big problem for getting numbers, but marriage doesn't increase numbers in the long term.
"I think we have to look at the big picture rather than trying to get simplistic answers to complex questions.
"The Lord is asking us to do bigger things than just say, should clergy be married or not.
"That may be the case in the future, but we have to find the right reasons for doing it rather than just 'we have to find more bodies' to say the masses we think everyone wants."
I returned to Conan's old school and for the young sixth-formers I spoke to, priesthood was just not on their radar.
They see it as "old-fashioned" and said there are "too many opportunities out there now".
Conan says he accepts that some would consider it unusual for a young man of his age to go into the priesthood.
"It's natural enough to perceive seminary as like a military camp, but it's really not," he said.
"Seminary has great friendship and fraternity. We are all normal guys who have our ups and downs.
"If you're being called to the priesthood, the only thing I can say is keep yourself open to that."
Keeping the Faith will be broadcast on BBC Radio Ulster and BBC Radio Foyle on Sunday 15 March at 12:30 GMT.