Alan Milne admits manslaughter and other charges on behalf of one of his companies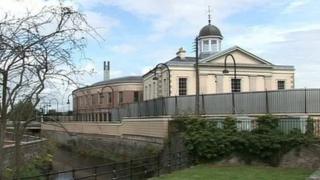 The managing director of a caravan park has admitted one of his firms caused the death of an employee through a "gross breach" of its duty of care.
Alan Milne, of Armagh Road, Newry, appeared in court in a personal capacity and representing two of his companies.
He is accused of corporate manslaughter.
He is accused of killing Thomas Houston who was crushed when a static caravan fell on him more than three years ago.
It happened at Silvercove Caravan Park near Kilkeel, County Down, in February 2012.
Mr Milne pleaded guilty at Newry Crown Court on behalf of one of his companies, Nicole Enterprises to the corporate manslaughter of Mr Houston and to breaching health and safety regulations by failing to "ensure the health, safety and welfare of employees".
However, he denied a charge of manslaughter in a personal capacity in relation to the death of Mr Houston.
Additionally, as the managing director of Dieci Ltd, he pleaded not guilty to a count of corporate manslaughter and to a further charge of breaching health and safety regulations by failing to properly assess risks posed to employees.
Following the mixed pleas, a prosecuting lawyer told Newry Crown Court there were now matters for the Crown to consider but added that "in all likelihood a trial will not be necessary" and asked for the case to be relisted on 23 March for an update.
The judge told Mr Houston's family, who were sitting in the public gallery, that it was "particularly sad to see the demise of what was clearly a good husband and father and a very hard-working man".