North Belfast crash: Hit-and-run driver 'feared kidnap'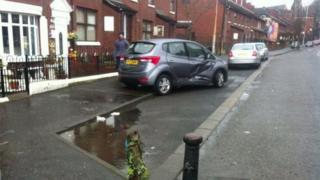 A motorist accused of running over a man in a hit-and-run in north Belfast was fleeing as he feared he was about to be abducted, a court has heard.
Anthony Smith reversed into the victim - said to be a friend - after receiving death threats, his lawyer claimed.
However, police say the incident on the New Lodge Road on Tuesday followed a confrontation about crashing into a car belonging to the injured man's partner.
Mr Smith, of New Lodge Road, was given bail to live at an undisclosed address.
Life-threatening injuries
The 28-year-old faces charges of causing grievous bodily injury by dangerous driving, failing to stop, report or remain at the scene of an accident, and having no insurance.
The victim, who is in his 30s, remains in intensive care with several life-threatening injuries, Belfast Magistrates Court was told.
Opposing bail, a detective told the court that Mr Smith handed himself in to police on Thursday.
Mr Smith accepted owning and driving the car involved in the collision, the officer said.
"He said he was challenged by a male unknown to him and due to the defendant being under threat he believed the person was going to abduct him, (so) he reversed the car and caused the injuries," the officer said.
However, he said that according to other witness statements, people emerged after Mr Smith crashed into the parked car.
"The injured party confronted (the driver), who reversed back on the person attached to the car and drove over that person on at least one occasion," the officer said.
A defence solicitor said that at the time of the incident, Mr Smith had already been warned by police that he was under threat.
"The car door was opened by someone coming up behind and he immediately panicked," he said.
Following the incident, Mr Smith drove about 100 yards before running away, the court heard.
The solicitor added: "He and the injured party are actually friends."
Bail was granted but he was banned from entering north Belfast and ordered to have no contact with the victim or any witnesses.