Newry teenager Colum McNally wins young engineer of the year award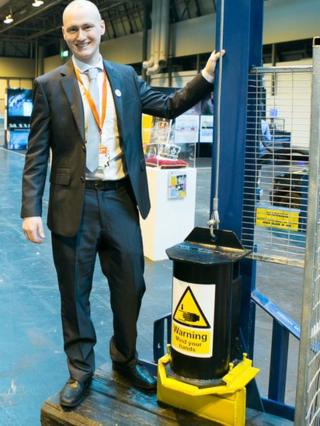 A Northern Ireland teenager who invented a machine to help prevent farm accidents has been named UK young engineer of the year.
Colum McNally, 18, from Newry, designed and built a hydraulic machine for both log splitting and fence building.
"I've been involved in engineering from a young age on the farm, just building bits and pieces as we needed them," he says.
"It's amazing to think it's taken me this far."
He told BBC's Good Morning Ulster programme how he came up with the idea.
"The idea came from adapting grass-fed paddock grazing for my dad's new farm shops.
"He was putting in lots of posts and when we looked at post drivers they were very expensive, and I wanted to create a machine that's cheaper, more versatile and affordable for farmers."
The teenager demonstrated his invention in front of judges at the Young Scientist and Engineers Fair in Birmingham.
He saw off competition from more than 2,000 entrants.
While log splitting and fence building normally take two machines that are often dangerous to operate, his Agri-Hammer combines the functions in a single device.
'Better place'
According to the slogan for his machine, it "takes the safety off the farmers' hands rather than taking the hands off the farmers".
The teenager said health and safety was very important to him.
"It has a dual purpose with the health and safety aspect whereby we create identified danger zones, where the post and hammer are colliding so when the operator is not in position, they can't operate those controls unless they're behind a safety cage," he said.
The St Colman's College student wins £2,000 along with a trophy and an experience prize.
"I'm really proud of all the work that's gone into my project over the last year and it's brilliant to have that recognised," he says.
Kate Bellingham, chair of the judging panel, said: "His project will make his work so much better, more accessible and really it is making the world a better place.
"Winning the competition is a wonderful opportunity for him, and I am convinced he will be a great ambassador for science and engineering in the future."