Martin McGuinness hopeful of welfare deal by middle of week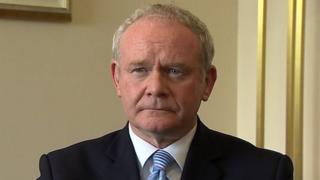 Sinn Féin's Martin McGuinness has said he hopes there will be a new deal on welfare reform by the middle of the week.
Sinn Féin withdrew support for the welfare reform bill last week.
The move has raised questions about the future of devolved government and talks have been taking place to solve the impasse.
Mr McGuinness told Irish state broadcaster RTÉ that a solution to the crisis was being worked on.
"I've been involved in discussions since last Monday with [first minister] Peter Robinson on a consistent basis. We have identified a way forward, which I think can resolve this difficulty," he said.
'Own resources'
"As we speak officials are working on all of this.
"I'll be meeting Peter Robinson again tomorrow. I would hope by the middle of the week that we would have an agreement."
When asked by RTÉ how a new welfare system would be funded, the deputy first minister said: "I think that's a matter is presently under discussion.
"As a result of identifying a way forward, we have also identified how it will be funded, but it will be funded from within our own resources."
Earlier, Mr McGuinness and Mr Robinson confirmed they would not travel to the White House for St Patrick's Day, in order to continue talks over the welfare impasse.
The Northern Ireland parties had agreed a deal on Westminster's welfare reform in the Stormont House Agreement in December.
The issue had previously threatened the future of the Northern Ireland power-sharing executive.
Last week Sinn Féin withdrew support for the welfare reform bill, accusing the DUP of going back on what had been agreed.
The DUP rejected this, saying there had never been the money for all the things Sinn Féin wanted and that Sinn Féin had been aware of this.
'Number one priority'
Mr Robinson tweeted on Sunday: "White House agree priority is to maintain momentum in finding a resolution to welfare issue. Best to be in Northern Ireland dealing with it."
In a statement, Mr McGuinness said: "The number one priority for me and my party is finding a resolution to the difficulties currently facing the executive.
"Progress has been made in talks between the parties but there is still a lot of work to be done.
"I have decided therefore in the best interests of trying to move the situation forward that I will not be travelling to the US to take part in events marking St Patrick's Day."
On Friday, Mr Robinson said he did not want to put President Barack Obama in an embarrassing position and if there was still a crisis over welfare it would be "absurd" for him to travel to Washington.