Sinn Féin: Adams 'to meet' US State Department in Washington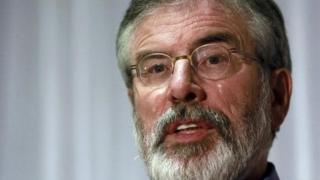 Sinn Féin has said a planned meeting between Gerry Adams and a high level US State Department official in Washington will now go ahead on Tuesday.
The move follows criticism of the US department from Mr Adams over its refusal to meet him on Monday.
The BBC understands the meeting was abandoned because of the continuing crisis over welfare reform.
Sinn Féin had denied a snub. However Mr Adams said it was "no skin off my nose" not to meet the official.
Speaking in New York, Mr Adams said: "The State Department's handling of the issue of a meeting with me is bizarre. It serves no purpose other than to distract attention from the main issue. That is the full implementation of the Stormont House Agreement.
"That is Sinn Féin's main focus. And Martin McGuinness and Peter Robinson are working on this as we speak.
"Bizarre"
"It is no skin off my nose not to meet the State Department. I am more concerned with protecting the rights and entitlements of citizens back home. That will remain Sinn Féin's firm objective," Mr Adams added.
Mr Adams' statement follows earlier comments from his party colleague Conor Murphy who had denied there had been a snub. Mr Murphy said: "Gerry Adams was actually asked for a meeting today by the State Department.
"He's in New York city today, he's unable to go Washington until tomorrow and so no other meeting has been confirmed after that.
"But he will be at the White House tomorrow for the St Patrick's Day celebration."
"Welfare reform"
At the weekend, First Minister Peter Robinson and Deputy First Minister Martin McGuinness cancelled plans to go to the US to meet President Obama on St Patrick's Day.
However, Mr Adams has travelled to the US.
Sources said he was to have held a meeting with a senior State Department official, among other engagements.
It follows developments at Stormont last week when Sinn Féin withdrew support for the welfare reform bill.
In a statement issued last week, former US senator Gary Hart urged all parties to reach an understanding on the scope of the Stormont House Agreement "so that a successful series of meetings planned for St Patrick's Day can go forward as planned in Washington".
State Department officials met with the SDLP leader Alasdair McDonnell on Monday.
It is understood the Ulster Unionist leader Mike Nesbitt will also meet with the State Department.