DUP consider taking legal action over exclusion from TV election debate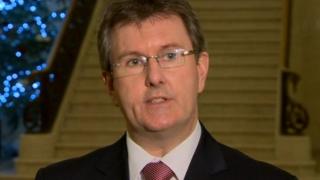 The DUP's Jeffrey Donaldson has said his party is actively examining whether to pursue legal action against its exclusion from TV election debates.
Prime Minister David Cameron said he would take part in a single multi-party televised election debate.
The parties invited to take part in the debate are the Conservatives, Labour, Liberal Democrats, UKIP, SNP, Plaid Cymru and the Greens.
Mr Cameron had said the DUP should be allowed to take part in the debates.
Mr Donaldson described the decision to exclude his party as "disappointing".
"It is not just the DUP, it is Northern Ireland that has been excluded from what is a national debate," he said.
"We had to wait until we had some sense of what the outcome was going to look like before we could take further legal advice and that's exactly what we will do as soon as we have some clarity around what is likely to happen here."
Mr Donaldson said the DUP would wait to hear from the Conservatives on whether they should now be included.
Broadcasters have proposed a total of three debates.
The BBC and ITV were to hold two, both involving the Conservatives, Labour, Liberal Democrats, UKIP, Plaid Cymru, the SNP and the Greens.
A third debate - hosted by Sky and Channel 4 - would feature a head-to-head between Mr Cameron and Mr Miliband.
Earlier this month, Mr Cameron rejected taking part in a head-to-head with the Labour leader Ed Miliband and said his "final offer" was to participate in a seven-way debate with the leaders of Labour, the Lib Dems, UKIP, the Green Party, the SNP and Plaid Cymru before the end of March.
The prime minister said on Tuesday he had accepted an offer to take part in one debate at the beginning of April.
Mr Cameron said the broadcasters had come back with a "formal offer" for a new format of TV election programmes, including one multi-party debate, which he said had signed up to.
The DUP used parliamentary time in Westminster earlier this month to call for an independent body to be put in charge of television election debates.
It followed the BBC Trust rejecting the party's appeal to take part in debates ahead of the general election.
The DUP is the biggest party in Northern Ireland and the fourth largest party in the House of Commons.
With eight MPs, the DUP has more members elected to the House of Commons than four of the seven parties that have been invited to participate.
The DUP motion said the debates had been "inconsistently and incompetently formulated" by the broadcasters.
The party wants future election debates to be organised by an independent body.