Northern Ireland unemployment benefit claimants figure falls again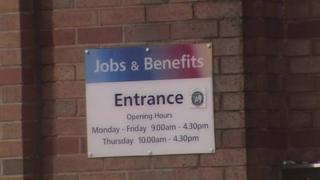 The number of people claiming unemployment benefit in Northern Ireland fell by 1,700 in February.
The overall total now stands at 46,200, the 26th consecutive monthly fall in this measure of unemployment.
The other measure of unemployment, the Labour Force Survey, stands at 6%, a fall of 0.3 percentage points over the November to January quarter.
However, the figures show the number of people classified as "economically inactive" continues to rise.
This refers to working-age people who are classed as neither in work nor seeking work.
That includes the long-term sick, students and those caring for relatives.
In the quarter between November 2014 and January 2015, the economic inactivity rate for those people of working age rose by 0.8 percentage points to 27.8%.
This is significantly higher than the UK average rate of 22.2% and is the highest of the 12 UK regions.
Meanwhile, other official figures show that manufacturing in Northern Ireland was continuing to grow strongly at the end of 2014.
The data for the last quarter of the year shows that output was 3.7% higher than the same period in 2013.
Output in the engineering sector is now back at its pre-crisis peak and has grown by more than 60% since its recession low point in 2009.
Pharmaceuticals and chemical are also continuing to perform strongly with output close to record highs.
However, the food, drink and tobacco sector showed an 8% fall in output compared to the same period last year.
Ulster Bank economist Richard Ramsey said this may be related to the increasing strength of sterling against the euro.