RVH Belfast: Man 'walked into A&E with a gun'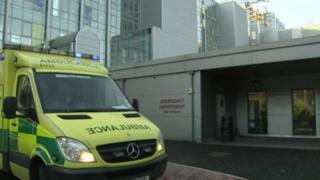 A man has been arrested at Belfast's Royal Victoria Hospital after he walked into the emergency department with a gun on Tuesday night.
Patients waiting in the reception area watched as hospital security and the police spoke to the man and persuaded him to hand over the firearm.
It is understood the 26-year-old asked the receptionist for help before making his way into the public toilets.
A Belfast Health Trust spokesperson said the man did not threaten staff.
They added that security were on the scene within minutes.
Insp Paul Noble said the man was arrested on suspicion of possession of a firearm in suspicious circumstances and currently remains in custody.