Drugs accused granted anonymity due dissident threat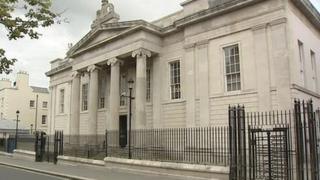 Two men charged over a cannabis haul with a street value of £240,000 have been granted anonymity due to fears they will be attacked by paramilitaries.
They were arrested after a 4X4 rammed a police vehicle in Magheramason, on the outskirts of the city on Monday.
Officers recovered 12kg of cannabis.
Londonderry Magistrates' Court was told one of the defendants' names was on a list compiled by dissident republican paramilitaries, that was found in 2013.
A detective constable from the PSNI's organised crime branch told the court he believed the dissident republican group intended to take action against all the people named on the list and that action ranged from seriously injuring them to murdering them.
The officer alleged that both defendants were employed by a major drugs supplier in the Republic of Ireland and were close to people at the highest level in the drugs gang.
He described the defendants as high-level couriers and said there was no one higher in the drugs chain than their employer.
The officer agreed with a defence solicitor that there would be a specific and real threat from dissident republicans to both men if they were publicly named.
The defendants are charged with possession of the drug, possessing with intent to supply and fraudulently importing the cannabis.
One of the men is also charged with dangerous driving and failing to stop for the police.
The pair were remanded in custody to appear before a video-link hearing on 2 April.