Darkness sweeps NI with rare solar eclipse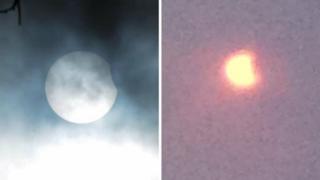 People over Northern Ireland have been getting a glimpse of a rare eclipse of the sun.
The amount of cloud cover determined whether people got a clear view of the event.
The eclipse was at its fullest in Belfast at 09:31 GMT and ended at 10:39 GMT on Friday.
Experts warned people not to look directly at the sun because of the risk of it causing serious harm, but there were ways to watch it safely.
All parts of the UK were in line to see at least 83% of the sun's disc obscured by the moon.