Steven Agnew claims Greens led to SF U-turn on welfare bill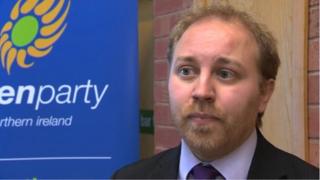 Northern Ireland's Green Party leader has claimed Sinn Féin's withdrawal of support for the welfare reform bill was prompted by his examination of figures.
Steven Agnew made the claim in a speech to the Green Party's annual conference in Belfast on Saturday.
He said: "There is no doubt in my mind that had we not exposed Sinn Féin on these issues, they would have passed this legislation."
Sinn Féin has described Mr Agnew's comments as "completely disingenuous".
'Not protected'
Disagreements over welfare reform have raised questions about the stability of devolved government in Northern Ireland, and Stormont's ability to balance its books.
Plans for new welfare legislation were agreed by the five biggest Northern Ireland parties in December, as part of the broader Stormont House Agreement.
However, there has been an impasse since 9 March, when Sinn Féin suddenly withdrew its support for the welfare bill, saying vulnerable benefit claimants would not be protected under the the legislation.
'Sorry'
Mr Agnew, the Green Party's sole MLA, joined Sinn Féin and the SDLP in signing a petition of concern that blocked the passage of the bill.
During his conference speech, the leader also apologised for his handling of an issue which saw North Down councillor Noelle Robinson resign from the party.
In a radio interview, Mr Agnew backed up comments by the Greens' leader in England and Wales, Natalie Bennett, that it should not be illegal to be a member of a terrorist organisation.
He told the conference he was sorry that he had not sought advice from party members before giving the interview and that he would learn from the episode.
Five candidates
He re-iterated that non-violence was one of the Green Party's fundamental principles.
The Green Party used their conference to announce they will run five candidates in May's general election.
Mr Agnew will stand in North Down.
Councillor Ross Brown will run in East Belfast, and Deputy leader Clare Bailey will be a candidate in South Belfast.
Tanya Jones will also stand in Fermanagh and South Tyrone, and Ciaran McClean in West Tyrone.