Golf tourism: Arlene Foster sets target of £50m a year by 2020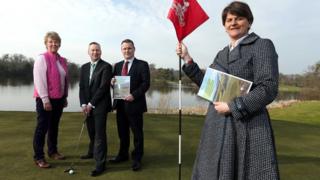 A plan to increase golf tourism and the economic benefits the sport brings to Northern Ireland has been announced by Stormont's enterprise minister.
Golf tourism currently generates about £33m annually for the local economy, but Arlene Foster has set a target of £50m a year by 2020.
The five-year strategy aims to attract more "high-spending visitors".
Mrs Foster said she wanted to remind golfers that "Northern Ireland is where golf champions are born and play".
'Golfing excellence'
In recent years, Northern Ireland's professional golfers Rory McIlroy, Graeme McDowell and Darren Clarke have achieved worldwide success, winning several major titles between them.
Launching the strategic review of golf tourism in Northern Ireland 2015-2020, the minister said there "has never been a better time" for a new plan to tap into the sport's tourism and business potential.
Her department said research suggested that for every £1 spent on green fees in Northern Ireland, a further £4 is spent on other goods and services.
"The continuing success of our golfers, the acknowledged quality of our courses and the widespread support for the game, exemplified by the unprecedented sell-out of the Irish Open in 2012, have combined to enhance Northern Ireland's status as an exceptional golf destination," Mrs Foster said.
'Spending power'
"Our reputation for golfing excellence will be increased further with the hosting of the Irish Open by Royal County Down this year, along with its return again in 2017, and indeed the prospect of holding the world's biggest golf tournament, The Open Championship, by the end of the decade."
The Department of Enterprise, Trade and Investment said: "The importance of golf tourism lies in attracting high-spending visitors and dispersing their spending power throughout the visitor economy."
The new strategy has been developed by Tourism NI and will enlist the help of golf clubs in a bid to meet tourism targets.