Liam Adams appeal: Judgement reserved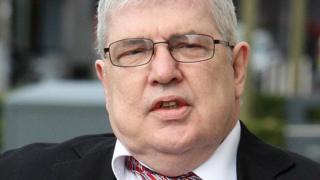 Judgement has been reserved in a bid by Sinn Féin leader Gerry Adams' brother to overturn convictions for raping his own daughter.
Northern Ireland's most senior judge, Lord Chief Justice Sir Declan Morgan, said he would give a decision in Liam Adams' appeal as soon as possible.
The 59-year-old is challenging a guilty verdict over a string of sexual assaults on his daughter Aine.
Adams is currently serving a 16-year prison sentence.
As the two-day hearing drew to a close at the Court of Appeal in Belfast, it was claimed that jurors who convicted him were not properly advised on how to deal with the reliability of the alleged victim's account.
A defence barrister said: "Put in stark relief the necessity that arose in this case was for the issue of credibility to be tackled head on by the trial judge in her direction to the jury.
"That's something that was never done."
Adams, formerly of Bernagh Drive in Belfast, is serving a 16-year jail sentence for the offences against his daughter, who waived her right to anonymity.
Adams' abuse of his daughter was said to have been committed over a six-year period between 1977 and 1982 when Aine was aged between four and nine.
He consistently denied the allegations throughout a second trial at Belfast Crown Court in 2013.
But a jury of nine men and three women found him guilty of 10 offences against his daughter: three charges of rape, four counts of indecent assault and a further three counts of gross indecency.
Guidance to jury 'flawed'
Using a walking stick, Liam Adams was brought into court by prison guards to hear further arguments in the appeal against conviction.
His wife and other relatives gathered again in the public gallery to support him.
Defence lawyers have focused their challenge on alleged flaws in the guidance to the jury at the end of the trial.
They contended that it may have wrongly shifted the burden onto Adams to prove his innocence.
Further complaints centred on the directions of how jurors should handle widespread publicity in the case.
The level of press, television, radio and online coverage on both sides of the Irish border even before Adams went on trial turned his case into a national issue, it was claimed.
The defence barrister told Sir Declan, sitting with lord justices Coghlin and Gillen, that a "very dramatic account of events" was given to a television documentary in which the complainant featured.
She argued: "The circumstances of this case were unique, and the problem from the defence point of view was that the damage was done before the trial ever started."
Following all submissions, Sir Declan confirmed verdict in the appeal was being reserved.
"We will reflect on this and we will give our judgement as soon as we can," he said.