Hospital transfers: Woman 'cold and hungry' when moved from RVH to Belfast City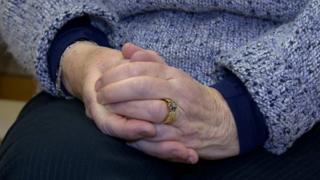 An elderly woman who was moved between hospitals late at night has said she was cold, hungry and thirsty during the transfer.
The patient said she collapsed in June 2014 and was very unwell when she was taken to Royal Victoria Hospital in Belfast.
At about 23:00 BST the patient was told a bed had become available in the City Hospital.
When she agreed to the move, she was transported by St John's Ambulance.
The patient said she had not eaten since breakfast and was wearing a light dressing gown.
'Uncomfortable'
Several senior nurses have described the out-of-hours hospital transfers of frail, elderly patients in Belfast as an abuse of vulnerable adults.
They criticised the system, saying some patients were not being treated with the dignity and respect they deserve.
Speaking to BBC News NI Health Correspondent Marie-Louise Connolly, the patient said staff at the City Hospital seemed angry when she arrived.
"I sat for an hour without anybody coming and I didn't know whether to get into nightclothes or change or get into bed.
'Disconcerting'
"About half-way through that time someone else came on duty and I could hear the story being retold and this other person got very excited and almost hysterical about the nerve of the Royal sending a patient to them at midnight, and how did they expect them to manage. I must say I felt very uncomfortable.
"I was woken the next morning by a number of people standing at the end of the bed discussing how you went about making a complaint about getting somebody dumped on you at midnight without any warning."
The patient informed her family by text message she had been moved hospitals.
"I had been very unwell and my family had been very frightened by my collapse earlier on in the day which had come through to me that it was maybe something very serious."
The elderly woman was later found to have a heart condition.
"Rattling through the streets of Belfast at that time of night is very disconcerting for older people. Older people than me and people more ill than me must find it very frightening," the patient added.