Stephen Nolan show April Fool: 75 pence per call hoax prompts furious response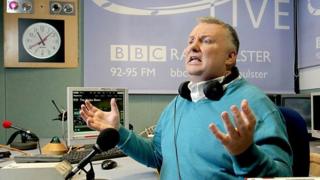 They say money talks and that was certainly the case on Wednesday after listeners to Stephen Nolan's show were informed the BBC was to charge 75 pence for every call to his show, with half the proceeds going to the presenter.
Belfast councillor Jim Rodgers rang the show saying he had been informed by a reliable source of the new revenue stream.
Nolan was happy to play along with the April Fool and said his take of 38 pence a call was an innovative way of getting a pay rise up front.
He claimed it had been a straight negotiation between himself and the BBC Northern Ireland controller.
Mr Rodgers said it was an "absolute and utter disgrace" and the revelation sparked a series of angry calls.
Mervyn from Holywood, County Down, said: "This is absolutely ridiculous if there is any truth in it. How low can you get.
"For goodness sake Stephen, go and catch yourself on - it is a scandal, an absolute and utter rip-off."
Another guest said:"Do you not realise how hard people are getting it? You are scraping more money any way you can. All you are doing is losing the respect of people."
BBC Northern Ireland Talkback presenter William Crawley appeared on the Nolan Show to say he had already received "a lot of texts and emails" about the subject.
"All calls for Talkback will remain free," he said. "I'm not in this for the money, I'm in this for public service broadcasting."
'Saving the world'
Meanwhile, George from the Shankill Road in Belfast said it was an "absolute outrage" and "everyone would be moving to Talkback".
"Thomas from north Belfast could be paying a tenner a day the number of calls he makes," he added.
"You have to think of the regulars here. "Frank Mitchell's listener's (U105 presenter) are going to go through the roof."
Not everyone was critical of the hoax initiative however, with one woman calling to say of Nolan:"He is saving the world on a daily basis, surely people can afford 75 pence for their world-saving calls."
A statement purporting to be from the BBC was read out on air saying it deeply "regretted the alleged leaking of information" on the show.
It said it was not its policy to comment on private contractual matters, but it wished to point out that contractual negotiations had not concluded.
At the end of the programme, Mr Rodgers, who had threatened to raise the matter with the new Belfast super council, put listeners and some BBC colleagues in the picture about the elaborate hoax.
And Nolan made sure the message was hammered home.
"Can I just assure everyone we are not charging anyone a penny extra for the calls - it is April Fool's Day you buck eejits," he added.