Man arrested over Mountcollyer Avenue hate crime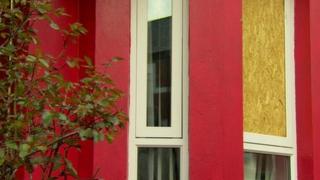 A 20-year-old man has been arrested in north Belfast after what police described as a racially motivated hate crime.
A group of men attacked two houses and threatened residents at Mountcollyer Avenue in the Tiger's Bay area.
Windows in two of the houses were smashed on Monday night and one man was reported to have been carrying a pick axe.
There was a second incident at one of the houses on Tuesday.
A Polish woman living in one of the houses said she did not feel safe there.