Ardglass boat skipper says submarine towed fishing trawler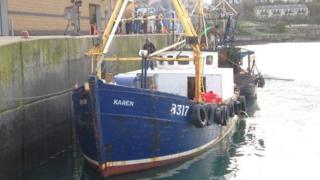 The skipper of a fishing trawler has said the boat was towed by a submarine 18 miles off the coast of Ardglass, County Down, on Wednesday afternoon.
Paul Murphy said damage had been caused to the trawler, Karen, and his crew were lucky to escape unharmed.
He said a submarine snagged their nets and the boat was dragged backwards at speed.
The Ministry of Defence (MoD) said it did not comment on submarine activity.
Mr Murphy said the incident happened at a point known as the Calf of Man not far from the Isle of Man.
The four crew members on board are safe, but said to be very shaken. They made their way back to Ardglass on the boat.
Mr Murphy said they reacted quickly to release the safety net.
It is estimated it will cost upwards of £10,000 to get the trawler ready to return to sea.