Skunk cannabis investigation: Woman arrested in Birmingham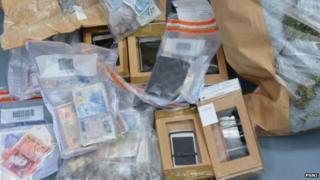 A 24-year-old woman arrested in England as part of an ongoing international investigation into the supply of 'skunk' cannabis has been brought to Belfast for questioning.
The suspect was detained in the Birmingham area on Wednesday.
The PSNI has arrested 13 people as part of the investigation.
Eight of them have been charged, two released pending reports to PPS, two others released pending further police enquiries and one remains in custody.
Police said they have seized more than £2m worth of cannabis in Northern Ireland in recent months as well as large amounts of cash.
"We are maintaining close contact with our colleagues in the Italian Carabiniere, as arrests and seizures have been made in Italy," Det Insp Andy Dunlop said.
"We are also working closely with the National Crime Agency as well as a number of other law enforcement agencies in the UK and Ireland."