Old Holywood Road: Police investigate two-vehicle crash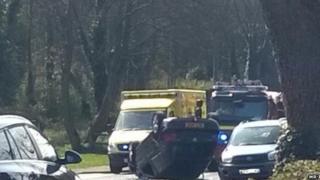 Police have said they are investigating a two-vehicle crash on the Old Holywood Road in County Down.
It happened near Palace Barracks in Holywood on Friday afternoon.
The Old Holywood Road was closed while officers searched for the driver and passenger from one of the cars who left the scene towards Redburn Park. It has now reopened.
Two people were taken to hospital for treatment, but their injuries are not thought to be life-threatening.
Insp Roberta Morris said: "We are appealing to anyone who witnessed the accident or knows the whereabouts of the two men who made off from the scene to contact police at Bangor on 101 or alternatively contact Crimestoppers anonymously on 0800 555 111."