Drugs trafficking: Woman in court over cannabis seizure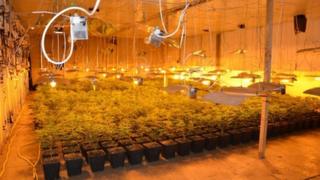 A 24-year-old woman has appeared in court in connection with a police investigation into an international drugs trafficking operation.
Yahan Wang, who is originally from China but now has an address at Southside Central Walk in Birmingham, is charged with seven drug offences.
The Coventry University student was arrested in Birmingham on Wednesday.
A detective told the court she could connect Miss Wang to the charges.
Appearing at Newtownards Magistrates' Court on Saturday alongside an interpreter, the accused spoke only to confirm that she understood the charges.
Miss Wang faces two counts of importing Class B cannabis, conspiring to supply cannabis, and possessing the Class B drug with intent to supply cannabis between January and March 2015.
'Key role'
She faces three further money laundering charges of transferring, converting and possessing criminal property, namely cash, between February 2012 and March 2014.
Police have carried out searches at more than 20 addresses since 25 March.
Searches have taken place in Belfast, Greenisland, Bangor, Newtownards and Ballywalter.
The PSNI is working with the National Crime Agency and Italian Carabinieri as part of the operation.
A detective constable told the court that police believe Miss Wang "sits at a high level within this organised crime gang and she plays a key trusted, organisational role within the group".
She added that Miss Wang regularly travelled between the UK, Italy and China and "appears to have access to large sums of cash".
She said: "It is the police case that she facilitated the importation of multiple packages of cannabis into Northern Ireland."
'Risk of flight'
The court heard that despite being an unemployed student, a total of £75,000 had gone through her three bank accounts in the space of a year.
During police interviews, the detective said Wang "admitted to viewing, renting and arranging the rental of various properties in Northern Ireland, which are all relevant to the investigation".
One of the houses was at Dunleath Drive in Ballywalter, County Down, where £350,000 of cannabis was uncovered.
Miss Wang is the ninth person to appear in court in connection with the operation.
The detective said police objected to bail as Miss Wang posed a risk of flight, interfering with the investigation and that she may reoffend to recoup financial losses caused by the police raids.
A defence solicitor said the accused already had a "somewhat lavish lifestyle" as her family in China were fairly well off and that many of the lodgements in her bank account had come from her father.
The judge remanded Miss Wang into custody to appear again via video-link on 15 May.