Walmer Street, south Belfast, house attack 'sectarian'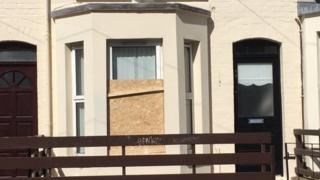 Police are treating an attack on a house in south Belfast on Sunday night as a sectarian hate crime.
A brick was thrown through the front window of a house on Walmer Street at about 19:20 BST, damaging a television in the front room.
Sectarian abuse was also shouted at the occupant, a woman in her late 30s who was not injured.
A man was seen running from the scene and driving off in a silver/grey car in the direction of Haypark Avenue.
He was described as being in his 30s with short hair and stocky build.
Meanwhile, police have said they are treating a separate incident at Raby Street, also in the Ormeau Road area, as a hate crime.
Graffiti was sprayed on the door frame and window of a house on Monday morning.