Health Minister Jim Wells sees no end to abortion issue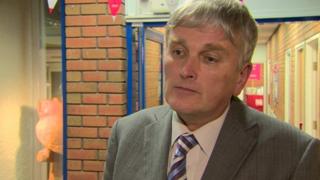 Health Minister Jim Wells has told the assembly he doubts Northern Ireland's abortion issue will be resolved in his time or that of his successor.
It is the first time that Mr Wells has said publicly that he believes he cannot resolve the matter.
He was asked if he accepted that any further delay in publishing the abortion guidelines was unhelpful to health professionals.
Mr Wells said it was probably the most difficult issue he had.
He said although it was an issue he would prefer to see resolved, whatever he decided could trigger a judicial review.
Mr Wells was responding to a question from Sinn Féin's Pat Sheehan.
Last week, the health department said that the abortion guidelines would be published within weeks.
This followed a recommendation by the justice department that the law should allow terminations in fatal foetal abnormality cases.