Civil service sickness report: £37m could be saved each year, says Stormont committee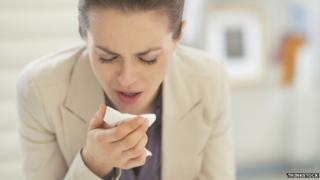 Better management of sickness absence in the Northern Ireland civil service could help to save £37m per year, according to an assembly report.
A review of public sector sickness absence has found a "consistent failure" to meet targets.
Sickness absence rates in Northern Ireland remain higher than in the civil service in Great Britain.
The committee for finance and personnel said if those rates were brought into line, a saving of £37m could be found.
In the latest figures looked at by the committee, the average number of days lost to sickness in the civil service overall was 10.1, which fell short of the target of 9.0.
In Great Britain, the average number of days lost is 7.6.
Concern
The report also showed that while there had been a downward trend in absence rates up until 2012, this has since levelled out and current targets were not being met.
The percentage of civil servants with no recorded sickness absence throughout the year increased to more than 55% in 2013-14.
But long-term absence, especially due to mental ill-health, remains a major concern, the committee said.
Almost 30% of working days lost in 2012-13 were due to anxiety, stress, depression or other mental illnesses.
In 2013-14, only one government department, the Department for Social Development, achieved its target of average days lost to sickness.
Daithí McKay, the committee's chair, said the level of sickness absence was "something we must tackle as a matter of urgency".
He added that good-practice policies needed to be applied more rigorously across the public sector.
Finance Minister Simon Hamilton told the assembly he welcomed the general downward trend in sickness absence within the civil service.
"I welcome the recommendations contained within the report and acknowledge that sickness absence is a topic which requires constant attention, and there is always more work to be done," he said.
"In relation to the Northern Ireland Civil Service, much of what has been recommended in the report is either currently in place, under development or being considered for introduction."
Ulster Unionist leader Mike Nesbitt said mental health and wellbeing were important.
"I do think capacity building and resilience is key, not just for the civil service but for our people, so that they have a feeling of empowerment when things are starting to go wrong, that they know there are routes to be followed to put that right," he told the assembly.
Alliance Party assembly member Judith Cochrane, who is a member of the committee, said they had compared absence rates with the private sector.
"Individuals in the private sector are more likely not to be paid for a spell of sickness than in the public sector, and this may mean that private sector workers are more likely to go to work when they are sick," she said.