Health workers in Northern Ireland prepare for strike action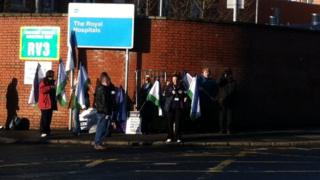 All of Northern Ireland's health unions are to engage in some form of either strike or industrial action over pay over the next fortnight.
The Society of Radiographers will walk out for four hours on 30 April - the same day that midwives will hold a four-hour strike.
Unison and GMB members will begin a work to rule from Monday.
Ambulance crews will begin an overtime ban on the same day at 08:00 BST.
That will end at 20:00 BST on Sunday 10 May.
GMB, a smaller union, will also begin an overtime ban on Monday that will last for two weeks.
GMB regional officer Denise Walker said the union had given notice to the five trusts in Northern Ireland that its members would be taking part in action short of strike from Monday.
"For the NHS there has been no movement by the minister or department on dealing with the issue of pay for NHS workers in Northern Ireland - unlike the position in the other three nations.
"There has been no attempt to resolve pay for 2014/15 and we are still waiting for the department to come back to the trades unions with their proposed framework within which they will discuss pay for 2015/16."
Midwives in Northern Ireland have also voted to strike on 30 April in a dispute over pay.
Members of the Royal College of Midwives (RCM) intend to stop work for four hours.
They voted by 9-1 in favour of strike action - the first such vote in the college's 134-year history.
The Department of Health said it was "disappointing" and that it would work with trusts to ensure a safe service was provided to mothers and babies.
It added that its door was always open for discussion.
The RCM is seeking urgent talks with the health minister to resolve the dispute.
On Sunday, Unite, the union that represents public transport workers, said its members would be taking part in a second strike that would affect all bus and rail services in Northern Ireland.
Unite said that a 24-hour strike was being planned for Wednesday 6 May and would affect Ulsterbus, Metro and NI Railways services.
Last month, public transport workers took part in a one-day strike involving education, administration and health service staff.