Courteney Cox: Family try Snow Patrol fiance's NI accent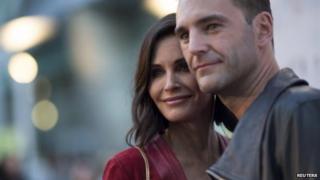 Former Friends star Courteney Cox has been trying to teach her family how to speak in an authentic Northern Ireland accent like her fiancé, Snow Patrol musician Johnny McDaid.
Cox told US chatshow host Jimmy Kimmel how she had struggled with the way the Londonderry man pronounces certain words.
The pair met in 2013 through mutual friend Ed Sheeran, and announced their engagement last year.
The actress showed a video clip of her family attempting to say the phrase "how now brown cow", with mixed results.
"My fiancé is from Northern Ireland and it's a great place - nice people there," she said.
"But you know, I'm from Alabama and we're real southern.
"He's got this beautiful accent - so we were celebrating our engagement a year ago and in Northern Ireland you say the word 'now', not like n-o-w but it's like n-a-u-w.
"It's weird and it's hard to do - I cannot get it.
"So we were sitting at this table and I was trying to get these southerners to try to say, 'how now brown cow' in the way he says it."
Kimmel joked: "I love that Johnny is just sitting there being abused by your whole family, thinking 'I came here from Northern Ireland to be made fun of?'"
She laughed: "He wanted to go home after that."