Hundreds attend Helen's Bay Gallipoli event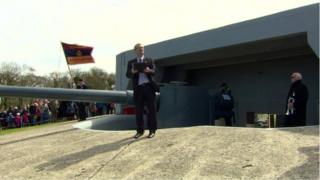 Hundreds of people have turned out in Helen's Bay in County Down to mark the 100th anniversary of the Gallipoli landings.
More than 130,000 soldiers lost their lives during the Allied attack on Ottoman forces.
Gallipoli was one of the bloodiest battles of World War One. In total, nearly 25,000 British and Irish soldiers were killed.
A cannon was fired during Saturday's event to remember those who died.
One of the organisers of the event, Pastor Brian Madden, said: "Many who went out didn't come back home again and I think it's important that we do remember those people.
"I know there's events taking place all around the world now and they call it Anzac day and they remember and mourn in Australia and New Zealand, but I think it's important when you remember 3,000 Irish men died in the battle as well, that we do commemorate it here in Ireland."