Nepal earthquake: Newry man Oliver McKevitt reported to be alive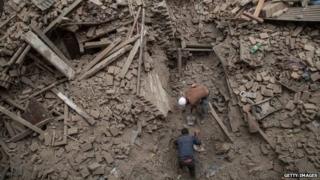 A County Down man reported missing in Nepal after an earthquake is alive, according to a Red Cross website.
The 7.8 magnitude quake struck an area of central Nepal between the capital, Kathmandu, and the city of Pokhara.
The Red Cross had included Oliver McKevitt, 24, from Newry on a list of people believed to be missing.
Mr McKevitt was in the town of Lukla before the earthquake hit. On Monday his details were updated to say that he was alive.
His family is still trying to make contact with him and said he had been injured.
Mr McKevitt is a relative of the south Down MLA Karen McKevitt. In a statement an SDLP spokesman said: "The family have asked the media to allow them privacy at this time so they can focus on doing all they can to find their relative."
'Large tremors'
According to the Google person finder website, the young man "has returned to Lukla and is now trying to get a flight back to Kathmandu and then home".
The Red Cross has said 90 Britons were missing, but 30 have been located and the UK Foreign Office said it was not aware of any deaths or injuries.
The Department of Foreign Affairs (DFA) in Dublin said around 100 Irish people were in the affected region at the time of the quake.
It said contact has been established with many of them. However communication lines have been affected so the process of contacting people may take some time.
The Irish Minister of State at Department of Foreign Affairs, Sean Sherlock, said the government has approved a £714,600 (€1m) fund, which will allow for a rapid response core team to be deployed and stocks released.
A RAF flight will carry vital UK aid stocks to the affected areas, along with a team of Gurkha engineers.
At least 3,900 people are now known to have died in the massive earthquake.
More than 6,500 people have been injured, according to the National Emergency Operation Centre.
'Local missionaries'
Stephen Reaney, a doctor from Keady, County Armagh, is part of a UK medical response team travelling to Nepal to offer assistance.
The Ulster Gazette reports that he is the only doctor from Northern Ireland to set off on the mission.
Dr Reaney has provided help in several disaster zones including the Philippines.
The Presbyterian Church in Ireland, which works in partnership with United Mission to Nepal (UMN), has said two of its missionaries from Northern Ireland are safe.
Peter and Valerie Lockwood from First Bangor Presbyterian Church were with their three children at an annual expatriate retreat in Pokhara, to the east of Kathmandu, and travelled back to the Nepali capital on Sunday.
"The situation in Kathmandu is under control but there is still widespread fear that another massive earthquake will strike, Peter said.
"The majority of people are sleeping outside under makeshift tents and tarpaulin but the community spirit is good and people are looking out for each other. Outside of Kathmandu in the rural areas the situation is sketchy and information is slowly filtering in.
"A state of emergency has been declared in 35 out of the 75 districts in Nepal."
Stephen and Laura Coulter from Kirkpatrick Memorial Presbyterian Church in east Belfast are also confirmed to be safe and well.