Ulster Bank chief Jim Brown takes up new post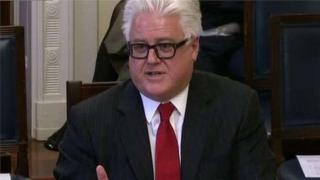 The chief executive of Ulster Bank, Jim Brown, is moving on in what is a second major change at the top of the organisation in recent weeks.
He will remain in post until a successor is appointed.
Two weeks ago, it was announced that Elvena Graham, the head of Ulster Bank in Northern Ireland, was taking up a position on its board.
Ulster Bank is the largest bank in Northern Ireland and the third largest in the Republic of Ireland.
Mr Brown is based in Dublin.
The announcement was made in a statement to the Stock Market by Royal Bank of Scotland (RBS), owners of Ulster Bank.
Mr Brown will be taking up the post of chief executive at Williams & Glyn, a new bank being developed by RBS in England and Wales.