Game of Thrones: Kit Harington apologises for joke about Belfast tourism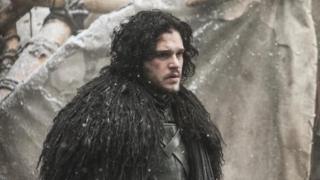 The Game of Thrones actor Kit Harington has apologised for remarks he made about living in Northern Ireland during a US TV interview earlier this month.
He had joked Northern Ireland's Tourist Board celebrated three things - having Europe's most bombed hotel, the Titanic which sank, and Game of Thrones itself.
He described his show, made in Belfast, as the "most depressing" on TV.
However, he has since said he was not trying to be disrespectful and added that he now considers Belfast "home".
'Wonderful place'
Speaking on BBC Northern Ireland's Arts Show, Harington said: "I totally would like to apologise for those comments.
"I made them because I feel like the places I love most in my life - London and Worcester where I'm from - are the places I can joke about.
"I first heard that joke on a red tour bus in Belfast and I thought it was very funny, and so I brought it to a US chat show, not thinking about the damage I may do the Belfast tourist board.
"It's a wonderful place, Northern Ireland, and it's home for me now," the actor said.
"So I never meant any offence by that and I'm sorry if anyone thinks it's not a great place to go, because as you can see from Game of Thrones, it's some of the most beautiful countryside in the world."
Game of Thrones has been described as the jewel in Northern Ireland's burgeoning film industry and the Belfast set has been visited by the Queen.