Charlie Hebdo: Queen's University event to go ahead after risk assessment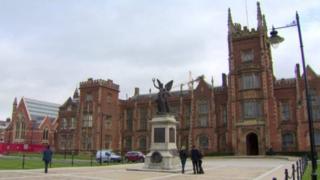 Queen's University has said an event to discuss the fallout from the Charlie Hebdo murders in France will now go ahead.
The Belfast university cancelled the conference last month saying no risk assessment had been completed.
The cancellation was criticised by academics who had been due to attend.
However, on Friday, Queen's said that following the completion of a risk assessment, the event would now take place as scheduled.
When news of the cancellation broke last month, it was revealed that delegates due to attend had received an email from the university's vice chancellor Patrick Johnston telling them he had cancelled due to the security risk and concerns for Queen's University Belfast's [QUB] reputation.
The university later issued a statement to clarify that the cancellation related to the non-completion of a risk assessment.
The conference will be hosted by QUB's Institute for Collaborative Research in the Humanities in June.
Twelve people died when two brothers, Said and Cherif Kouachi, fired on the journalists on 7 January at the satirical magazine's offices in Paris.
Five others were killed over the two following days by one of their associates.