Casement Park: Ni Chuilín accuses 'anti-GAA element'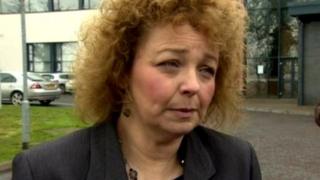 The sports minister has said "an anti-GAA element" is making it difficult for a new 38,000 seater-stadium being built at Casement Park in west Belfast.
Carál Ni Chuilín said the project would be delivered "on my watch".
An investigation is being held into a public official's evidence at a Stormont committee last week.
Safety expert Paul Scott said was put under "undue pressure" to approve plans for the new stadium by officials from the minister's department.
He told the Culture, Arts and Leisure Committee the 38,000-capacity stadium could not be evacuated safely and there was the potential for a disaster like the Hillsborough stadium tragedy.
Mrs Ni Chuilín said the first she had heard of his allegations was when he appeared before the committee.
Mr Scott, who works for Sport NI, has claimed he had been making his views known for two years as part of a Safety Technical Group.
The minister, in a BBC interview, said she was not suggesting safety claims were part of an agenda.
"I am not saying that at all. Safety concerns are completely separate," she said.
"However, what I do find strange is that throughout the whole opposition to redevelopment of Casement Park, I have not once, not once, heard of those concerns being raised."
The investigation into Mr Scott's claims will be run by the Department of Finance and Personnel.
A legal case has held up the redevelopment of Casement. The GAA is to submit another planning application.