Ronnie Carroll: 113 vote for former Eurovision singer and election candidate who died in April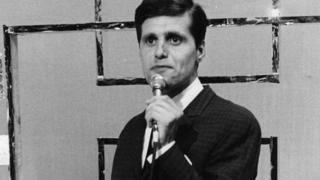 More than 100 people voted for former Eurovision star Ronnie Carroll in the General Election even though he died in April.
Mr Carroll, who was born in Belfast, was well known for his big UK hit, Roses are Red.
He died on 13 April, days after getting his name printed on ballot papers for the Hampstead & Kilburn constituency.
He had billed himself as the Eurovisionary Carroll and at the polls, 113 people gave him their vote.
Mr Carroll represented the UK in the Eurovision Song Contest in 1962 and 1963 with Ring-A-Ding Girl and Say Wonderful Things, finishing fourth both times.
He had been due to stand as an independent in the election.
He had previously stood unsuccessfully in elections under the banner of parties such as Make Politicians History.
In the Haltemprice and Howden by-election in 2008, he failed in his mission to get no votes, gaining an almost respectable 29.
Born Ronald Cleghorn, he was married at one stage to That Was The Week That Was star Millicent Martin.
He died, aged 80, after a short illness.