Theresa Villiers to remain as NI secretary of state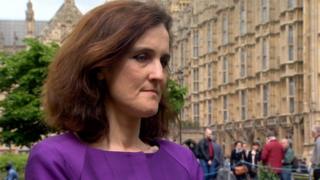 Theresa Villiers will remain as secretary of state for Northern Ireland.
Ms Villiers, the Conservative MP for Chipping Barnet, was first appointed to the job in September 2012.
She said she would concentrate on breaking the stalemate on welfare reform.
There was a brief meeting on Monday on the issue between the first and deputy first ministers, the BBC understands.
"I'll certainly be talking to all the party leaders over the coming days about the need to get the Stormont House Agreement back on the road and properly implemented," she said.
"There isn't additional funding for welfare, we've made that very clear, but obviously as part of the Stormont House Agreement we've provided about £2bn in additional spending power.
"It was a generous financial package, I don't think it would be right to jeopardise that."
DUP leader Peter Robinson said on Friday that Sinn Féin had been given "breathing space" but added that "they know what they need to do in terms of fulfilling their commitment to the Stormont House and Castle agreements".
Meanwhile, Ivan Lewis has retained his place as shadow secretary of state.