Christopher Cullen: Man on trial for murder of Bangor-born wife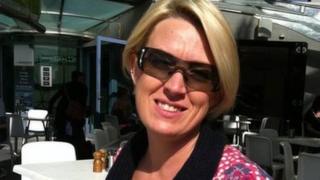 The trial has begun in Australia of a man charged with the murder of his estranged wife, who is originally from Northern Ireland.
The body of Victoria Comrie Cullen, 39, from Bangor, County Down, was found on grass at a fishing club in Taren Point in southern Sydney last year.
There was extensive bruising and blunt force injuries, and 18 knife wounds.
Her husband, Christopher Cullen, has pleaded guilty to manslaughter but is being tried on a charge of murder.
ABC news reported that on the opening day of the trial, the court in Sydney heard he had purchased two knives from a nearby fishing supplies store.
Mr Cullen also had a number of knife wounds when police found him emerging from mangroves on the day.
'He would kill her'
The couple had attended court proceedings about damage to a car.
There was evidence suggesting Mr Cullen then followed his wife as she drove into the unit complex where she was living, the court heard.
A witness heard a female voice saying: "Where are you taking me?" and a male voice replying: "Just wait in the car."
Prosecutor Siobhan Herbert said: "The witness was so concerned that she called the police."
The jury was told at the time of their separation in October 2013, Ms Cullen was accused of having an affair.
"He told her if she was not gone when he got back, he would kill her," said Ms Herbert.
The court also heard that Cullen once placed derogatory signs about his wife outside the salon where she was working.
Ms Herbert said Cullen attacked his wife neither in self-defence, nor under provocation.
"When he stabbed her numerous times, when he cut her throat, he intended to kill her," she said.
The defence is yet to open its case in the trial, which is expected to last three weeks.