Human Rights Act: Gerry Adams criticises 'attack' on NI peace deal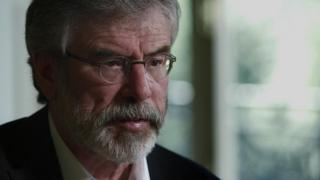 Sinn Féin leader Gerry Adams has said a UK plan to scrap the Human Rights Act is a "scandalous attack" on Northern Ireland's 1998 peace agreement.
The new Conservative government intends to repeal the act and replace it with a British Bill of Rights.
Mr Adams said it would be a "grievous breach of the Good Friday Agreement" and called on the Irish prime minister to raise the matter with David Cameron.
However, the Democratic Unionist Party said the existing act "failed victims".
The 1998 Human Rights Act had the effect of extending the protections listed in the European Convention on Human Rights (ECHR) into domestic UK law.
'Enormous implications'
Critics of the Conservative plan to scrap the act say it would breach the terms of the Good Friday [Belfast] Agreement, under which the UK government committed itself to incorporate the ECHR into Northern Ireland law.
In a statement, the Sinn Féin leader said a repeal would have "enormous" implications for the administration of government, justice, policing, and equality in Northern Ireland.
"The Tory government proposal is a clear and significant breach of the Good Friday Agreement and of the international treaty that underpins it.
"There is an onus on the Irish government as a co-guarantor of the agreement to raise this matter as a matter of urgency with the British government," Mr Adams added.
However, DUP MP Jeffrey Donaldson said on Tuesday that his party a "has long been critical of the Human Rights Act and the way in which it has been interpreted by the European Court of Human Rights".
"The Human Rights Act has been abused by criminals and terrorists who have used spurious challenges to avoid deportation," he added.
'Common sense'
Responding to claims of breach of Northern Ireland's 1998 peace deal, Mr Donaldson said the DUP "did not support the Belfast Agreement and has no affinity to it".
"In fact the DUP has long argued that the United Kingdom should have a Bill of Rights which recognises and respects the diversity of the devolved arrangements across the country," he said.
Northern Ireland Secretary of State Theresa Villiers has defended the plan and said the proposed British Bill of Rights would transfer power to UK courts but would "continue to protect fundamental rights enshrined in the European Convention".
"It is about injecting a bit of common sense into the system and to address the mission creep we have seen on human rights," she said.
Charlie Flanagan, the Republic of Ireland's minister for foreign affairs, said the Irish government "takes very seriously our responsibility to safeguard the agreement".
"The fundamental role of human rights in guaranteeing peace and stability in Northern Ireland must be fully respected," he said.