Windsor Park: Cause of West Stand collapse will not be revealed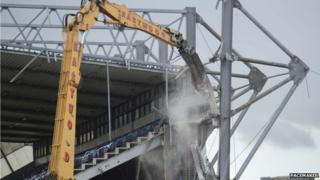 A Stormont committee has been told the cause of the collapse of Windsor Park's west stand will never be made public.
Cracks were discovered in the stand after Northern Ireland's Euro 2016 qualifier against Finland in March.
The full contents of a letter sent to the committee by Irish Football Association (IFA) chief executive Patrick Nelson have emerged.
In it, Mr Nelson appears to indicate that the findings of a report on the cause will not be published.
Findings
In the letter, dated 6 May, Mr Nelson wrote: "The ultimate cause of the failure of the stand is still to be determined and our advice is not to issue copies of any report outside of the project team.
"I hope that you understand our position on this."
Members of all political parties on the committee were unhappy that the report would not be released.
Both the DUP and Sinn Féin have called on the IFA to publish the findings.
Mr Nelson has been invited to appear before the committee next month.
The DUP MLA William Humphrey said the IFA needed to be "open and honest" about the cause of the stand's collapse.
Mr Humphrey, who was in the stand two days before cracks appeared, said he was disappointed that the IFA had suggested that a report on the causes would not be published.
Mr Humphrey said: "I want to know exactly when the stand moved, why it moved, what was the cause?
"I also want to know when the replacement stand will be built, how quickly it will be built to complete the stadium, and who will pay for it?"
Unique
Sinn Féin MLA Rosie McCorley said: "The IFA need to be open and transparent. If the report isn't made public, people will want to know why."
In a statement, the IFA said it had already sent a delegation to meet with the committee on the matter but was prepared to do so again.
"The damage caused to the West Stand at Windsor Park is currently subject to ongoing discussions between the IFA, the association's insurers and contractors, our specialist technical team, other interested parties and insurers," the statement read.
"It would at this stage be unhelpful and inappropriate to speculate on the outcome of these discussions."
The damaged stand is being demolished after a recommendation by engineers.
Last month, the committee was told that a "unique set of circumstances" caused the damage.
Rory Miskelly, who is overseeing the stadium project for the Department of Culture, Arts and Leisure, said ongoing work at an adjacent leisure centre was among the causes.
The Euro 2016 qualifier against Romania is due to go ahead at the stadium on 13 June.
UEFA, the governing body of European football, inspected the revamped Windsor Park yesterday.
It said that all work is on schedule for the match next month.