Danske Bank and Belfast Telegraph object to headquarters listing plans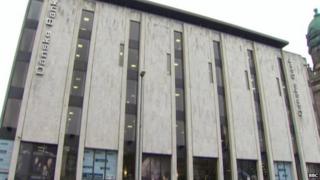 Danske Bank and the Belfast Telegraph are objecting to plans to have their Belfast headquarters buildings listed.
The Northern Ireland Environment Agency (NIEA) is considering giving both buildings a B listing which recognises them as having local importance or being good examples of a period style.
Danske Bank said the move would impose "unnecessary constraints" on its operations.
And the Belfast Telegraph said it could affect its operations.
Both are due to address Belfast City Council's planning committee next week.
The NIEA will make its final decision on the listings after the council's response.
At previous meetings, held in shadow form, the planning committee has supported the listings.
In a detailed submission to the council, Danske Bank said there was no need to list its building as "sufficient safeguards are already in place" and it is "careful to respect its built heritage obligations".
It added that the rationale for listing is "factually incorrect" as the building has undergone significant alterations in recent years.
Danske Bank's building on Donegall Square was constructed in 1972 to a design by architects BDP.
The NIEA assessment described it as "a bold exercise in 20th century modernism" and "one of the strongest expressions of 1970s architecture in Belfast".
The Belfast Telegraph building on Royal Avenue dates from 1886 and was designed by Henry Seaver.
The Telegraph's concerns are outlined in a letter from the paper's managing director Richard McClean.
It is understood that the Telegraph has emphasised its pride and respect for the façade of the building, but is concerned that any listing could also cover recent, architecturally unimportant additions.
For example the paper's press hall dates from 1985 and listing could constrain any future operational changes.
The NIEA said the building was among Seaver's first works and retains "much historic fabric and detailing".