Henry Fitzsimons given extended bail to attend family gathering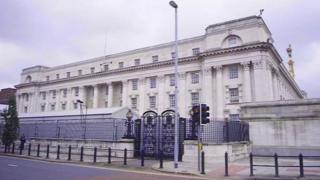 An alleged senior dissident republican has been given extended compassionate bail to attend a family gathering.
Henry Fitzsimons, 46, had already received permission to attend his child's first Holy Communion.
Fitzsimons, faces charges linked to an attempt to murder police in north Belfast.
The judge agreed to the additional request after the accused pledged to honour conditions.
Mr Fitzsimmons, of no fixed abode, is alleged to have conspired with co-accused Colin Duffy and Alex McCrory to kill police officers in December 2013.
Other counts against him include attempting to murder members of the Police Service of Northern Ireland, conspiracy to possess firearms and explosives with intent to endanger life and aiding and abetting the possession of a firearm.
He is also charged with belonging to a proscribed organisation, the Irish Republican Army.
The charges relate to an attack in December 2013 in which a police Land Rover and two other vehicles came under fire as they travelled along Belfast's Crumlin Road.
Two AK47 rifles and 14 spent rounds of ammunition were later recovered along with a hijacked and burnt out taxi the gunmen used for their getaway.
Fitzsimons was later arrested along with Duffy, 46, of Forest Glade, Lurgan, County Armagh, and McCrory, 53, of Sliabh Dubh View, Belfast.
Their detention followed secret recordings of an alleged meeting the trio held in the grounds of a large country house near Duffy's home a day after the shooting incident.
According to the prosecution they were taped for more than an hour holding a "leadership command discussion regarding the IRA, its activities and future direction".
The court heard talks involved the Crumlin Road attack, the loss of the AK47s, burning out the getaway car and whether the gunmen would be recognised.
Criticism was said to have been vented that the rifles were not cleaned before the attack - an apparent reference to one of the guns having jammed.
Only those with knowledge of the shooting could have known those details, it was argued.
During the meeting it was allegedly said that in future the only operations cleared would be ones with a high percentage chance of "getting a kill" or at least doing damage.
They were said to have displayed knowledge of attacks on police in other areas such as Londonderry and they discussed how they would like rifles with armour-piercing rounds.