Missing wallaby back on Dungannon farm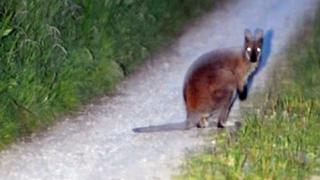 A missing wallaby that sparked a report to police about a "small kangaroo" on a road in County Tyrone has been returned to its farm home.
The animal had got out of Grange farm in Dungannon on Thursday night and had been returned on Friday.
Police reported Thursday night's sighting on their Dungannon and South Tyrone PSNI Facebook page.
They said the animal was reported on the road between Moy and Dungannon.
"We weren't able to locate anything that resembled a kangaroo, so just wondered if anyone else saw it, or knows of any living in the area?" they added.
There was a previous wallaby escape from Grange farm at the end of May 2012.
The marsupial burrowed out of his enclosure and evaded all attempts to catch him.
After three weeks of searching, brothers George and TG Troughton thought they had recovered the wallaby after a hectic chase through the undergrowth in Castledawson, County Londonderry.
However, after grabbing it by the tail and bringing it home, they discovered it belonged to another man who had lost one in the area 24 hours earlier.