Francis McPeake: Two convicted of intimidating musician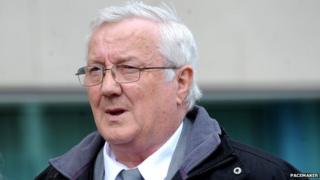 Two Belfast women have been told they may face jail after being convicted of intimidating traditional musician Francis McPeake from his home.
Eileen Murdock, 48, of Eliza Street Close and Danielle Whyte, 29, Stewart Street, were found guilty on Friday.
They were convicted by a 10-2 verdict of intimidating the musician out of his home in Eliza Street Close by force, threats or menaces in September 2013.
At the time, the pensioner was facing charges of sexually abusing a girl.
He was acquitted of all charges in September of last year.
On Friday, the jury found Whyte not guilty, by a unanimous verdict, of intimidating Mr McPeakes's brother-in-law to leave his home in the same street.
The judge said that he was releasing the two defendants on bail pending the preparation of pre-sentence reports.
"The fact that you are being released on bail should not be taken as an indication of the likelihood of sentence and this court will be considering a period of imprisonment," he said.
The women will be sentenced on 19 June along with three co-accused who had pleaded guilty to various charges arising out of the incident.
Colleen McNally, 37, from Stewart Street, pleaded guilty to intimidating Mr McPeake from his home as did Sarah Bruce, 44, and her 50-year-old partner Paul Quinn, also from Stewart Street.
Children
Quinn also admitted damaging the window of a vehicle belonging to Mr McPeake while McNally admitted causing criminal damage to the same vehicle.
During the three-day trial, the court heard that a crowd gathered outside Mr McPeake's family home following a newspaper report that the musician was facing sex abuse charges.
Mr McPeake's son said his four young children were staying with his parents when their home was attacked in September 2013.
Francis McPeake Jnr said some of the crowd that gathered surrounded a car that was being used to take his children to safety.
Mr McPeake Jnr said his children "should not have been subjected" to events that unfolded on the evening of 14 September 2013.