Supreme Court rejects Winston Rea and Carroll murder appeal bids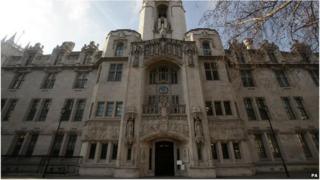 The UK's highest court has rejected applications to hear appeals on two high profile cases in Northern Ireland.
Loyalist Winston Rea lost his attempt at the Supreme Court to stop police getting tapes of interviews he gave to Boston College's Belfast project.
The court also rejected an application to hear an appeal over the sentencing of two men for murdering a policeman.
Brendan McConville and John Paul Wootton were convicted of murdering Stephen Carroll in Craigavon in 2009.
In this case the judges said they were refusing permission to appeal "because the application does not raise an arguable point of law of general public importance which ought to be considered by the Supreme Court at this time, bearing in mind that the case has already been the subject of judicial decision and reviewed on appeal".
Both men are currently serving life sentences for murdering Constable Carroll, who was the first member of the Police Service of Northern Ireland to be killed.
The Court of Appeal increased Wootton's minimum jail term from 14 to 18 years last October after ruling it was unduly lenient.
McConville is serving at least a 25-year-sentence for the murder.
Both men lost their appeals against their convictions in May 2014. The Supreme Court's decision means that the Court of Appeal's ruling stands.
In the case of Winston Rea, the former loyalist prisoner was one of dozens of former paramilitaries who provided testimonies to Boston College's Belfast Project.
The interviews were given on the understanding that tapes would not be made public until after the deaths of the interviewees.
However, in 2013 detectives investigating the 1972 abduction and murder of Belfast mother-of-10 Jean McConville secured transcripts of former IRA woman Dolours Price's account.
That material was handed over following court battles on both sides of the Atlantic.
Mr Rea wanted to try to stop the police in Northern Ireland from obtaining his testimony.
When the Court of Appeal in Belfast rejected Mr Rea's claims that handing over the interviews would breach his right to privacy, he took his case to the Supreme Court.
However, judges refused permission to appeal, ruling that the case does not raise an arguable point of law of general public importance.
His lawyers say they will now make an application for an urgent hearing at the European Court of Human Rights in Strasbourg.