Julia Holmes: Couple may have died in suicide pact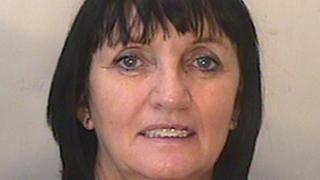 A couple found dead in their County Limerick home in the Republic of Ireland may have had a suicide pact.
It is one line of inquiry being investigated by police.
The bodies of two people believed to be Thomas Ruttle and his wife Julia were found in a bedroom at their home near Askeaton on Monday.
Police are also investigating whether Julia is the woman wanted by NI police since absconding in 2011 while charged with fraud totalling £18,000.
Known to have used false identities, Julia Holmes, originally from Castlederg in County Tyrone, was deported from the US in 2006, after serving a jail sentence for a $500,000 property scam in Texas.
After returning to Northern Ireland, she was jailed in 2009 for 21 months for fraud.
Two years later, she skipped bail while living in Ballynahinch, County Down.
The couple were last seen on 14 March.
Police were alerted by people in the area amid concerns there may have been a robbery at the house, and the bodies were discovered on Monday at about 03:00 local time.
A rifle was found in the bedroom, close to the bodies.
However, a forensic examination has not established any evidence of the weapon being discharged.
It is understood the post-mortem examinations found no evidence of bullet wounds on the bodies.
The bodies are believed to have been in the house for up to two months.