Hiroshima memorial ceremony will include Belfast origami sculptures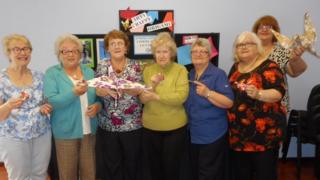 Origami birds from Belfast will be included in the Hiroshima Peace Memorial Ceremony in Japan on 6 August.
It is the first time a Belfast community group has taken part in the ceremony, which is held every year on the anniversary of the day in 1945 when America dropped the world's first atomic bomb on the Japanese city of Hiroshima.
Knocknagoney Community Centre's Arty Crafty group created 24 paper cranes after hearing the story of Sadako Sasaki, one of more than 130,000 victims of the World War II attack.
Sadako Sasaki, was two years old when the nuclear bomb exploded near her home in Hiroshima.
While most of her neighbours died, Sadako appeared to be unscathed.
However, in 1955, when she was 12-years-old, Sadako developed leukaemia (by then known as the A-bomb disease).
A visiting friend told her about the red-crowned crane, a Japanese symbol of luck and long life.
The friend added that according to Japanese legend, if a sick person makes 1000 origami cranes, they will recover.
Sadly Sadako only got to 644, before passing away in her sleep.
Her classmates started a campaign to build a monument mourning all the children who died from the atomic bombing.
On 5 May 1958, after fundraising by students all over Japan and in nine other countries, including the UK, a three-legged, nine-metre-high statue known as the Children's Peace Monument was erected.
At the top stands the bronze figure of a girl holding up a gold-coloured origami crane.
Each year, people all over the world make origami cranes and send them to Hiroshima, where they are placed around the park and in garlands over the monument.
"It's a great honour for the group and for Knocknagoney Community Centre," said origami teacher Mike Russell.
"When I contacted the memorial park and told them we would be sending cranes from Belfast, they were delighted.
"They didn't think any had been sent from Northern Ireland before, but were certain no other Belfast community group had previously been represented."
"I first heard about the cranes and Sadako's statue when I visited Japan in 2005.
"As this is the first origami class that has been run at the centre, I thought the story would inspire the students and give them a goal.
"They were very moved and we spent three weeks making the cranes, each of which are two to three inches tall.
"Everyone in the class has written a personal message to be sent to Hiroshima along with their sculptures.
"All the messages, from people all over the world are then logged on to a database for viewing."
He added: "It's a privilege for Knocknagoney Community Centre to take part."
The Hiroshima Peace Memorial Ceremony takes place in Hiroshima Peace Memorial Park, every year on 6 August, now known as Peace Day in Japan.
The purpose of the park and the ceremony is honour victims of the bomb and also to advocate world peace.