Short Strand: Sick woman forced to stay as Army tackle bomb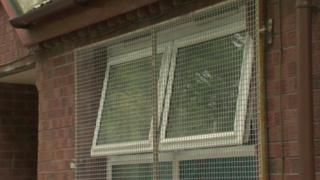 An elderly woman with cancer was too ill to leave her home as the Army tackled a pipe bomb in east Belfast on Monday night.
Other pensioners had to leave their homes in the attack at Strand Walk in the Short Strand.
A second device was found in an elderly man's garden on the same street on Tuesday.
The Army have carried out a controlled explosion at the scene.
The first alert began at about 22:50 BST on Monday night.
"The police said the bomb squad was on their way and told me, 'we are going to have to move you out'," said a man who lives on the street.
"There are only six dwellings and all are pensioners. One of them is critically ill with cancer. She couldn't be moved."
A pipe bomb was found in the back garden of one of the pensioners' houses. It had failed to explode.
Bomb officers worked through the night to make it safe. The remains have been taken away for forensic examination.
The man, who is 80, found somewhere else to stay for the night and returned on Tuesday morning to more bad news.
"I didn't come back until 07:00 BST. Apparently it was about 02:45 BST before everything was clear," he said.
"I spotted this thing in the front of my garden. I didn't know what it was. Another person said they thought it was a pipe bomb."
The bomb squad was called again to deal with the second device.
Strand Walk is in the nationalist Short Strand area and runs along an interface with the loyalist Newtownards Road.
Rioting
Along the back of the houses, a large net has been erected, to stop bricks, glass or petrol bombs being thrown across on either side.
The pensioner said he had lived there for 57 years and had become used to rioting and "trouble".
"Between golf balls, bolts and nuts lying in my back garden and petrol bombs - it has been going on for so long, they say you get used to it, but you have to live with it," he said.
"When it comes to the hot weather and marching season, it is always put down as recreational rioting.
"We're upset, we're all pensioners and to be told to get out and not return is not very nice."
Det Sgt Sean Armstrong said the unexploded pipe bomb "had the capacity to cause serious injury".
The police are urging anyone with information to contact them.
Sinn Féin councillor Niall Ó Donnghaile condemned the attack.
"Elderly and infirm residents, who have time and time again borne the brunt of attacks on their homes, have been badly shaken at this attack and some have had to leave their homes," he said.
"A further security alert following the discovery of a second pipe bomb in the area has only added to the distress of local residents."
Following the second alert, the Newtownards Road in east Belfast was closed at Bridge End for several hours.