Man gets life for murder of Finbar McGrillen and Caron Smyth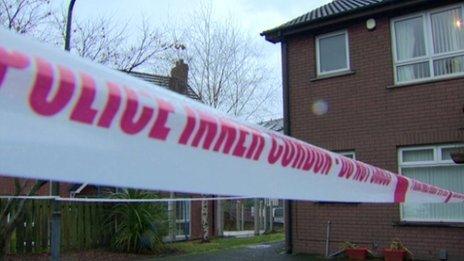 A man has been sentenced to life imprisonment after admitting murdering a man and woman in Belfast.
The bodies of Caron Smyth, 40, and Finbar McGrillen, 42, were discovered in Mr McGrillen's apartment at Ravenhill Court, on 13 December 2013.
Shaun Patrick Joseph Hegarty, 34, and Ciaran Nugent, 33, were charged with murdering Ms Smyth and Mr McGrillen.
Both men denied the charges, but Shaun Hegarty was re-arraigned on Tuesday and pleaded guilty to both murders.
The two men had been due to be tried together at Belfast Crown Court.
Hegarty, formerly of Grainne House in north Belfast, but whose address was given as HMP Maghaberry, was given a life sentence.
The judge informed him that the minimum sentence he will have to serve before being considered eligible for release, will be set at the conclusion of the trial involving co-accused Ciaran Nugent.
Mr Nugent, formerly from the Simon Community in west Belfast, has denied murdering Ms Smyth and Mr McGrillen.
His trial on charges of double murder begins on 27 May.