Gay marriage: Belfast City Council says 'yes'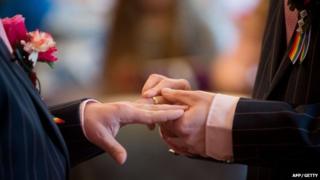 Belfast City Council has voted in favour of same-sex marriage at a meeting on Monday.
A total of 38 councillors voted for, 13 voted against and there were two abstentions, so the motion was carried.
It had been moved by Alliance councillor Emmet McDonough-Brown.
Councillors from Sinn Féin, the SDLP, Green Party, PUP, People Before Profit and Alliance spoke in support of the motion.
All the Sinn Fein and Alliance councillors voted in favour, all but two of the SDLP councillors joined them, as well as the PUP, Gerry Carroll, People Before Profit Alliance, and the Green Party.
All but three Ulster Unionists also voted for the motion.
Three UU members voted against and they were joined by all of the DUP councillors.
Two SDLP councillors abstained from the vote.
Earlier this month, the Republic of Ireland voted overwhelmingly in favour of same-sex marriage
However, in April, the Northern Ireland Assembly rejected a proposal calling for the introduction of gay marriage, after debating the issue for a fourth time.
A total of 96 MLAs took part in that vote and 49 voted against the Sinn Féin motion calling for civil marriage equality for all, with 47 in favour.
Sinn Féin, SDLP and five Alliance MLAs supported the motion. The DUP opposed it and the Ulster Unionists were given a free vote on the issue.
Of 53 unionists, only four voted yes.